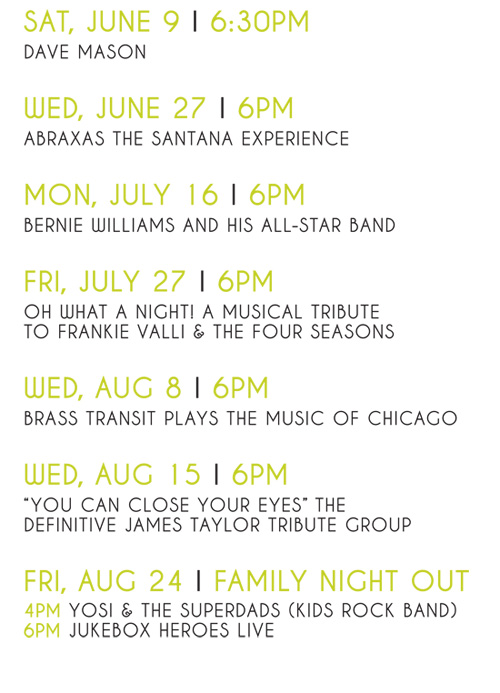 Showtime Dance Band
Saturday, June 9, 2012 @ 4pm
Richard LaPerchia is the founder and leader of the Showtime Dance Band. Richard had a vision of starting a band which would perform inspirational music that combines the sound of Motown, Soul, R&B, Funk, Old School Disco, Dance Rock, and Jazz with the priority that IT MADE THE CROWD MOVE!!
Showtime Dance Band has been performing at the Holiday Inn Hotel (MT Kisco), Empire City Yonkers Raceway, New York Life, Chat 19 Restaurant and Lounge, Route 22 Restaurant & Bar, (CT), La Lanterna Restaurant, 12 Grapes Restaurant & Grill, The Arthur Ave Feast and many other premier venues.
---
Legendary Dave Mason
Saturday, June 9, 2012 at 6:30pm
Click here for Dave Mason's complete bio.
---
Abraxas - The Santana Experience
Wednesday, June 27, 2012 at 6pm
This is the definitive Carlos Santana Tribute Band. They don't just play Santana's music, they recreate it in exquisite detail! Inspired by the incredible intensity of his music, the members of the band share a passion for recreating the electrifying sounds of Carlos Santana. Audiences, without exception, have been awed by the authentic Santana sound that they deliver during their stunning shows. With this Santana Tribute band, it's all there: the propulsive Latin percussion, the fiery lead guitar work, the "groove" that connects to the soul of the audience. Their play list is full of old favorites, as well as recent hits from "Supernatural", "All That I Am" and "Ultimate Santana."
---
Bernie Williams
Monday, July 16, 2012 at 6pm
Growing up in Puerto Rico, Bernie Williams discovered his love for baseball and music at roughly the same time, when at the age of eight he fell in love with the sounds of a flamenco guitar his merchant-marine father brought home from Spain, and also felt the same exhilaration when he first picked up a baseball bat. The young student-athlete quickly excelled in both pursuits, going on to attend the special performance arts school Escuela Libre de Musica at the age of thirteen and becoming one of the most noted young athletes on the island, both as a track and field standout posting record times in the 400meters and one of Puerto Rico's most sought after young baseball prospects. When Williams signed a contract with the New York Yankees at age 17, he brought his love of music with him - first to Albany for his development in AA and then on to the Bronx and the most famous field in sports when called up to join the Yankees in 1991.
In his 16 year career patrolling centerfield for the New York Yankees, Bernie Williams was a four-time World Series Champion and a five-time All Star. Williams has more post-season RBI's to his credit than any other player in Major-league history and his resume also boasts four gold-glove awards, six American League pennants, the 1996 ALCS MVP award and the 1998 American League batting title. Bernie is also among the Yankees all-time leaders in every major batting category, with his performance statistics often standing alongside such legends as Babe Ruth, Mickey Mantle, Lou Gehrig and Joe DiMaggio.
Throughout Williams' years with The Yankees, his passion for music never waned, and the sound of a guitar would often be heard emanating from the clubhouse or during team flights. Whether acoustic or electric, a guitar was a constant presence in the star's locker or equipment bag, and it was no surprise in 2003 when he demonstrated how serious his musical pursuit was with the release of his first album, The Journey Within. The record featured fusions of jazz, rock and the tropical rhythms of Williams' heritage and was met with both strong critical praise and instant chart success- reaching #3 on Billboard's "Contemporary Jazz Chart."
Bernie Williams raised his musical game even further with the release of his second album Moving Forward. Featuring guest appearances by Bruce Springsteen, Jon Secada, Dave Koz, and an All-Star cast of renowned studio musicians, Moving Forward debuted as Billboard's #2 Contemporary Jazz album in the country, and continued to hold that chart position for five straight, and spawned two consecutive Billboard #1 singles, Go For It, and Ritmo de Otono. The album was nominated for a Latin Grammy Award for Best Instrumental Album in 2009.
Bernie will return to the studio in 2011 to record his third album, and is co-authoring a book to be released in July 2011 published by Hal Leonard Books titled, Rhythms of the Game: The Link Between Music and Athletic Performance. The book will examine the symbiotic relationship between musical artistry and athletic performance through the eyes of a man who has mastered both.
---
OH WHAT A NIGHT! A Musical Tribute To Frankie Valli & The Four Seasons
Friday, July 27, 2012 at 6pm
OH WHAT A NIGHT! A Musical Tribute To Frankie Valli & The Four Seasons is an exciting musical revue. Sherry, Big Girls Don't Cry, Walk Like A Man, Can't Take My Eyes Off You, My Eyes Adored You, Working My Way Back To You, Let's Hang On and Who Loves You are just some of the many hits you'll enjoy from the dynamic songbook of those boys from Jersey, FRANKIE VALLI & THE FOUR SEASONS.
OH WHAT A NIGHT! A Musical Tribute To Frankie Valli & The Four Seasons is a loving concert and tribute, which features all the original hits as well as several top 10 releases not in Broadway's Tony award-winning hit. This includes Frankie Valli's biggest solo hit from the blockbuster movie GREASE! Between the score of recognizable tunes, OH WHAT A NIGHT! delivers informative and often hilarious banter between our stellar, high-spirited cast. Fans of FRANKIE VALLI & THE FOUR SEASONS will surely want to see JERSEY BOYS as well as OH WHAT A NIGHT! And, if you're fortunate enough to be able to see him, Frankie Valli is still performing live and in person.
---
Brass Transit - Plays The Music Of Chicago
Wednesday, August 8, 2012 at 6pm
What happens when 8 of Canada's most in-demand musicians + singers gather together out of a common love for the greatest Jazz Rock group of all time?
Brass Transit - Toronto's dynamic, crowd-pleasing, studio-tight Chicago tribute! The band's show includes all the hits from Chicago's golden age, 1969-1976. With a world-class horn section, a rocking rhythm section and vocals stacked sky high, Brass Transit transports it's audience back to the freewheeling days of the seventies. The band includes veterans of the Hall-of-Fame Rock and Soul acts like the Drifters, Sam and Dave, Aretha Franklin, Ben E. King, The Marvelettes, Frankie Valli, Mary Wilson, Martha Reeves, Little Anthony & the Imperials, Del Shannon and The Mama's and the Papa's.
---
"You Can Close Your Eyes"
The Definitive James Taylor Tribute Group
Wednesday, August 15, 2012 @ 6pm
A faithfully rendered presentation of more than two dozen James Taylor classics from his iconic pop masterpiece "Fire and Rain" to the Carole King treasure "You've Got A Friend." Audiences will be enveloped by the sound of the voice and the songs that have become entrenched as part of the musical landscape of our lives.
The presentation takes the audience through a retrospective journey of JT's music and reveals anecdotal information about the history and creative process behind many of these musical gems providing much more entertainment value than the uncannily precise rendering of the music itself.
---
Yosi & The Superdads!
Friday, August 24, 2012 at 4pm
Look!
Up on the stage!
It's a bird! It's a plane! It's...

Yosi & The Superdads!

Faster than a speeding toddler...
More powerful than fingerpaint...
Able to leap tall piles of laundry...
...while balancing a checkbook & singing in four-part harmony!

Before they were Dads, they started out as Kids too.
---
Jukebox Heroes Live!
Friday, August 24, 2012 @ 6pm
"Jukebox Heroes Live" featuring "The Mahoney Brothers" is an all LIVE musical event with incredible show stopping impersonations performed by professional, multi-talented entertainers. This Rock and Roll Review creates an evening of unforgettable entertainment with period staging and high tech visuals. Elvis, Jerry Lee Lewis, Garth Brooks, Everly Brothers, Beach Boys, Blues Brothers, Ricky Nelson, Jimmy Buffet, Buddy Holly, Neil Diamond, and more.